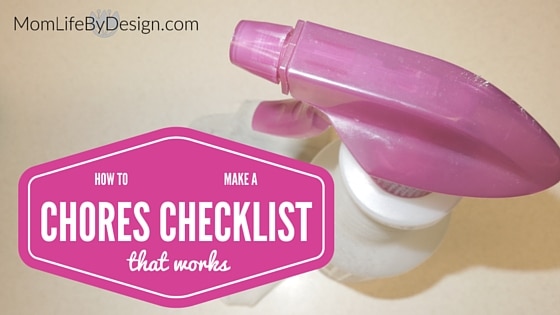 It's no secret that I think I cleaning schedule is super important. Maybe you're at the point where you know you need some kind of household chores checklist, but you're at a loss for where to start.
Never fear – I've got you covered today!
No printable you'll find on the internet is going to cover all your needs perfectly, which is why it's super important to make your own. Your life is personalized, as your schedule should be!
I've made a free printable that will walk you through this process – making it as painless as possible! Here are the five quick and simple steps explained. This process will get you started on making your perfect cleaning schedule, so you can get on with your life!
Step 1: List out all your tasks that have to be done around the house
This one is pretty simple. Brain dump everything you can think of that you do around the house. From the everyday to the once in a blue moon – it doesn't matter how often you do it, if you do it at all, it goes on the list. This isn't the time to evaluate the task – just get it logged down on your list.
Take some time to walk from room to room, noting all the cleaning tasks you do in each place – being physically in the room will trigger your memory more than just trying to think about it from one location.
I know your list is growing super long, but try not to be overwhelmed – we'll make it manageable!
The goal of this step is literally just to make a log of every cleaning task related to your house. Nothing more, nothing less. We just need a starting point of what has to be done before we can get to work making that schedule!
Step 2: Decide how frequently each of these tasks must be done
Now that you have a household chores checklist made, it's time to evaluate. Look over your list and sort it based on how often these things need to be done around your house. This will be different for everyone – some people need to sweep every day, while others are content with once a week. If you're bogged down in laundry, perhaps a load a day will keep things under control – making laundry a daily task. If you dread laundry and find yourself doing it way too often, maybe you can separate the task into a twice a week wash day, and twice a week fold day.
This is YOUR schedule – there are no wrong answers.
I'm a once a week sweeper and duster, and while it might drive others crazy, this is what works well for me.
Once you've assigned a frequency to all of these tasks, it's time to go back and be realistic. You may need to adjust your expectations based on the amount of time you have available! It's simply not sustainable to do every cleaning task daily, unless you want to spend your entire day cleaning. A mostly clean house and a sane Mama is 1000 times better than a pristine house and a stressed out Mama.
With this in mind, are there any areas that you need to let go of a bit? Can you stretch the time between cleanings for certain things to give yourself a little more breathing room?
Around 2-3 daily tasks, 6 weekly tasks, 2 alternating weekly tasks, and 4 monthly tasks are a great baseline, as the tasks will get spread out in the next step.
Step 3: Decide what day and time you will do these (if ever!)
After the cleaning tasks are in their appropriate frequency category, pick a specific time to do what's on your lists. For the weekly tasks, assign a day of the week to them, being mindful of your other obligations on these days.
For example, I try not to put anything "heavy" on my Saturdays, as these are our family days, or Sundays, as we are rarely home.
For the alternating weekly and monthly tasks, give them a week and day. For me, this looks like cleaning all appliances inside and out on the first Monday of each month, as Mondays are light days.
You have complete control to schedule what happens on each day – use this to your advantage!
If all you have on Tuesdays is to sweep, then you might want to pair it with mopping (an every other week chore for me), and that would mean mopping gets assigned the 2nd and 4th Tuesdays. It's a bit like a puzzle at first, but you'll soon easily see what pieces fit best and where.
As you're working out your specific schedule, go one step further on this – decide what time you will get this done every day! Sometimes, it's better to knock them out first thing, and then you don't have to worry about them – if your schedule allows! Whatever time that works for you, having a specific time makes it more likely that they will actually happen.
It's also important to note that sometimes the task doesn't have to be on your plate. During certain busy or overwhelming seasons, it is so freeing to outsource some (or all!) of the cleaning tasks that feel like they might choke the life out of you.
Life is meant to be lived and enjoyed, not spent cleaning or stressed about it all the time.
If laundry has become too much of a burden, there are laundry services for that! (These vary by area, but just google "laundry pick up and delivery service" – you're welcome!) They will literally pick up a bag of dirty clothes from your porch, and return them promptly clean, folded, and ready to be put away. The extra expense is sometimes worth the gains in sanity and free time.
Another sanity-saver may be to hire a professional cleaner to come in once a month and deep clean the house – giving you room to breathe if you "forget" an area or just simply don't have the time to get it all done.
It's not a sign of weakness to ask for and hire help – it's a great sign of strength, understanding your time and energy can be better used elsewhere!
Step 4: Put them on your calendar
Having a schedule is of zero benefit unless you actually use it. If you don't remember it, have it close at hand, or consult it, it isn't doing you any good at all! Making the schedule is the very first part of the battle. The follow-through is the reward!
It doesn't matter if you're a paper planner or paperless, whatever method you use to keep track of what needs to be done, get these cleaning tasks recorded as appointments! Almost all of these tasks are recurring, so it is helpful to use an app like Todoist, Asana, or the Calendar on your phone to get these tasks down, and let the app do the hard work of remembering what you do, and when!
I've created a handy guide for the apps mentioned above if you aren't familiar with these task management apps. They have been brain savers for me – I no longer worry about forgetting appointments, what I need to be doing, or what's up next, because it flawlessly reminds me. My brain space is then free to think actual thoughts!
Step 5: Do a little bit every day!
While it does take some initial planning and preparing, creating a household chores checklist with a schedule that works with and for you is totally worth it. You get to enjoy the benefits of having a clean house, without having to spend hours one day getting everything done. I've found that doing a small part of the whole at a time, routinely, will keep your house clean AND your stress down!
Make your schedule, then stick to it. Give it a month or two to try it out, and then make adjustments as needed. Schedules are meant to be helpers, not burdens, so if it's not working, you have my permission to rearrange until it does! You will find what works for you, and the relief of ditching the cleaning burden is worth the trial.
Because I believe that crafting your perfect schedule is uber-important, I've put together a fun little cheat sheet and printable planner for you to use. I hope it inspires you to get a plan together that works for you and your schedule, and makes this part of your life a smidge easier!
Get your free printable here: