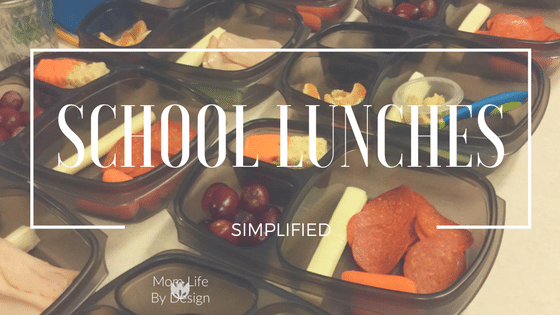 Let's just be honest: school mornings are especially crazy and hectic. For kiddos who can't sleep in on a weekend to save their lives, most school mornings, I'm hustling to wake them up in time for them to scarf down breakfast and head out the door with sleep-crusted eyes. It never fails.
Shuffling them out the door with the completed homework/signed note/lunchbox/project/nap blanket/whatever they need is quite the morning workout. I know that how your day begins sets the tone for how it will continue, and I would really like for that not to be a frazzled sprint. I don't do "harried" well. Anything I can do to promote more peace in the mornings and set the tone for both my kiddos and myself for a great day is a win in my book.
This year, my focus has been on simplifying the lunchbox for a smoother morning.
I knew I needed to do something new. My lunchbox routine was spotty at best. The night before (if I remembered), I would throw together a hodge-podge of items in different containers, and then try to remember to get them all in the lunchbox (if they fit) with an ice pack the morning of. And that was the best case scenario. Talk about adding to the stress of the morning!
This year, we're a couple of months in, and things are already looking better! Here's what's working for us!
Swap Out Lunch Containers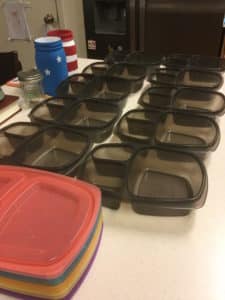 I needed lunches to be grab and go – not scattered throughout multiple containers. I spent a lot of time looking for just the right container- I wanted it to have multiple compartments to keep foods separate, but I also wanted it to be leak-proof, both between the compartments in the container and overall.
The challenge in finding this was also having a lid the kids were able to open themselves without too much struggle.
I finally settled on a set of 5 reusable "Portion Perfect" containers for each kiddo , and we're all in love with them. They are strong and durable, leak-proof, hold PLENTY of food, and still able to be opened by their little hands. We've lost a corner or two on the lids so far, but they are still fully functional. That's pretty impressive for my crew!
Go-To Lunch Ideas
When I had a quiet moment, I made a list of some of my boy's favorite foods for protein, veggies, fruits, grains, and dairy. I tried to have at least three options in each category so they weren't eating the same thing every day.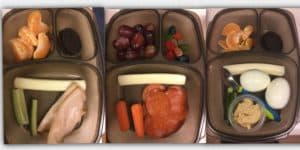 For our house, here's what that looks like:
| Protein | Fruit |
| --- | --- |
| Turkey Slices | Apples |
| Hard Boiled Eggs | Orange |
| Hummus | Grapes |
| Pepperonis | Strawberries |
| Veggies | Snacks |
| --- | --- |
| Carrots | Cheese Stick |
| Cucumbers | Pita Chips |
| Salad | Granola Bar |
| Grape Tomatoes | Pretzels |
Prep Ahead of Time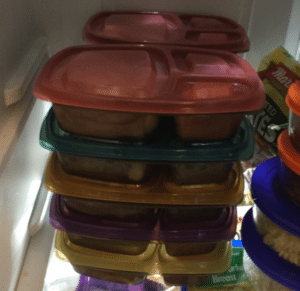 Having 5 containers for each boy means all lunches for the week get made on Saturdays now. It takes up a bit of room in the fridge, but I'm willing to sacrifice that for the sanity it provides in the morning. A compact refrigerator might also be worth considering, so you don't have to compromise on fridge space, but you'll still get all the benefits of being prepared. And who knows? Maybe the mini-fridge reminder of college life will inspire your school lunch packing!
On Saturday afternoon, I lay out all 10 containers and start filling them from the Go-To Lunch list. The biggest section usually gets the protein, dairy, and veggies. The medium section I will fill with fruit. The smallest section I reserve for a treat!
Morning Routine
As the boys eat their breakfast in the mornings, I throw the container and an ice pack (these are great ones!) into their lunchbox, and they're out the door. I keep individual servings of pretzels, pita chips, and granola bars together in the pantry, and put one of those in each lunchbox the night before so they don't get soggy in the refrigerator.
I also keep spoons there as well, for the days they have something that requires one. Knowing where everything is (and making sure it gets returned to the right spot the day before) is huge. I don't have to chase anything down in the morning, or remember tiny details pre-coffee. Winning!
Have an After School Routine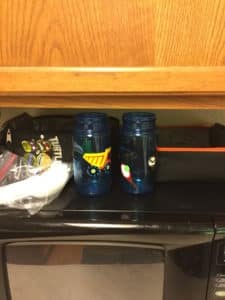 As soon as they get home each day, we empty out their lunchboxes and water bottles. After a quick wipe down, the containers go in the dishwasher, and the lunchboxes and water bottles go on top of the microwave where they will be ready for the next morning.
Routines are the glue of life. Making lunches a regular part of our week ensures that things get done. Pick a day to plan and prepare lunches. Have a specific time each night that you check to be sure everything is ready for the morning. Have a system for making note of lunch box supplies you need so they don't get forgotten on the next grocery trip. Know who will put everything together and at what time, and then watch it happen like a well oiled machine!
A little planning and preparing has made all the difference for us in the mornings – I hope it helps you some too!
How do you handle school lunches? What are your tips for making it simple, quick, and easy?